Sting Responds To Comments From Bret Hart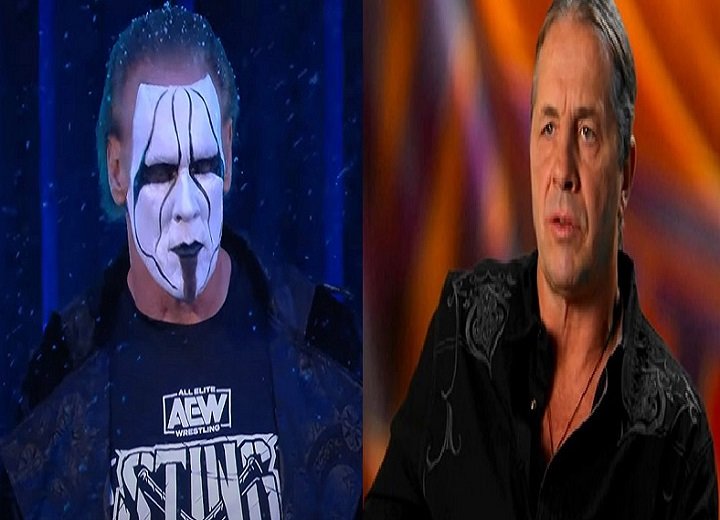 'The Icon' Sting has responded to comments made by Bret 'Hitman' Hart about the time they shared in a WCW ring.
Sting vs. Bret Hart should have been a dream match. Two legends of opposing promotions coming together for the first time was a Starrcade or WrestleMania main event occasion.
After all, both athletes had been the face of their respective companies through the early nineties and into the onset of wrestling's attitude era.
However, when the pair collided in the heavy midst of the NWO ruled World Championship Wrestling, the results were somewhat unspectacular.
Instead of the company top prize – which they would briefly contest – both marvels were relegated to scrapping over the far less important WCW United States Championship and their outings reflected the meagre prize on offer as well as the treatment of Bret Hart by the booking committee.
Taking to Twitter few days ago, the AEW Superstar replied to comments made by Hart all the back in 2016 praising the legend's abilities inside the ring.
"Sting was a class guy, just a first-rate guy. Great guy to work with. A real friend. Never saw any ounce of ego. Just a team player all the way and I always had a lot of respect for him. He really made coming to work fun."
Brought to his attention by a fan, Sting had nothing but praise for 'The Best There Is, The Best There Was, And The Best There Ever Will Be":
The feeling is mutual, @BretHart. Enjoyed working with you. Great finisher! My one regret is I never got to see a Stinger cartoon from you.
Instead of treating the first bout together as a once in a lifetime occurrence, WCW simply gave it away for next to nothing on a May 26, 1998, house show in Memphis, Tennessee, before the duo clashed in a Triple Threat Tag Team Match at WCW Fall Brawl 1998 on opposing teams.
Their first singles television bout on the October 5, 1998, edition of Nitro ended in a disappointing no contest before Hart prevailed via disqualification two weeks later and went over 'The Stinger' at WCW Halloween Havoc 1998 to retain the company's United States strap.
Following a house show series which saw Sting go over 'The Excellence of Execution', the pair finally contested the WCW World Heavyweight Championship one year later on the October 18, 1999, with the champion Sting coming out on top.
At Mayhem 1999, Hart would gain revenge for the loss by knocking Sting out of the WCW World Heavyweight Championship Tournament before defeating Chris Benoit to capture the strap. It would be the final time the pair collided in singles action.