The Rock is branded a hypocrite for turning on pal Joe Rogan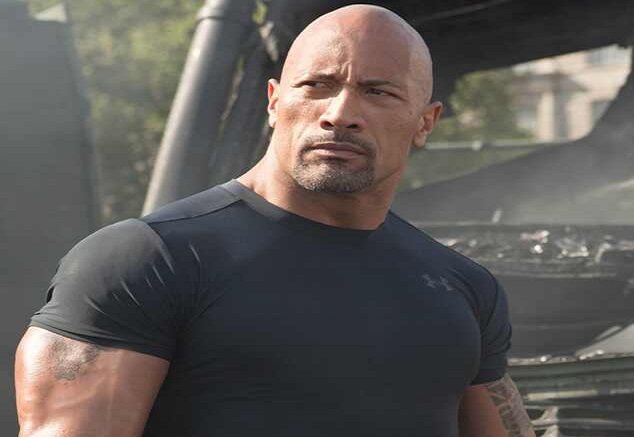 Dwayne 'The Rock' Johnson has been branded a hypocrite after old tweets emerged of him accusing a woman of using 'tranny tricks' and a video of the former professional wrestler doing an offensive Chinese accent.
In another clip, an old promo video showed him saying then-rival wrestler John Cena looked like 'a bloated transvestite Wonder Woman ready to fight crime.' Promo wrestling clips are scripted and performed in character, which for Johnson at the time, was a heel or villain. Tweets also emerged of the former wrestler replying to a woman who tweeted in 2011 that she used to be in favor of the his team 'until I realized that @TheRock is a douche.'
Responding in his bad guy persona, Johnson tweeted: 'It's not our fault you're turning tranny tricks to put yourself thru nursing school.' Donald Trump Jr. posted a screengrab of the transphobic tweet on Sunday, writing: 'Wow @TheRock, you can't just try to quietly delete transphobic attacks without giving a groveling apology and expect to ever work in Hollywood again.
'Do Under Armour, Ford, Apple, Netflix and the rest of his sponsors/partners agree with this?' Caitlyn Jenner then replied to the former president's son, writing: 'Hmmmm… the double standard is real. '@TheRock I love you but cmon dude … let's be real. Cancel culture has got to go. Use your platform,' she wrote to the Moana actor, thanking Donald Trump Jr. 'for highlighting.'
Other tweets showed Johnson doing a mocking impression of the Chinese language at the WWE's 13thAnnual Survivor Series in November 1999. The tweets have reemerged after Johnson learned that his long-time friend Joe Rogan had repeatedly used the N-word in the past – something he called a 'learning moment.'
'I was not aware of his N word use prior to my comments, but now I've become educated to his complete narrative. Learning moment for me,' Johnson, tweeted Friday after author and political activist Don Winslow called out the action movie star for his support of Rogan.
The Hollywood star has since come under fire from conservatives who branded the 49-year-old a hypocrite. 'Having watched @TheRock's pro wrestling career from the start, I can promise you that he has said many things himself that would get him cancelled today as a sexist & homophobe, which is what makes his 180 on @joerogan even more pathetic & cowardly. Just YouTube his old promos…' slammed Republican strategist Andrew Surabian.
'Just YouTube his old promos,' he added. YouTuber and 'citizen journalist' Tim Pool, shared the controversial footage, tweeting sarcastically: 'Thank you @TheRock for speaking out against racism.' Conservative columnist Benny Johnson posted an extended version of the clip, showing the Rock also did a mocking impression of the Swedish language. He captioned the video. 'Can you smell the hurtful racism @TheRock is cooking?' he captioned the video.