TRAGEDY: The Story Of WWE Star Sasha Banks Is Just Very Sad…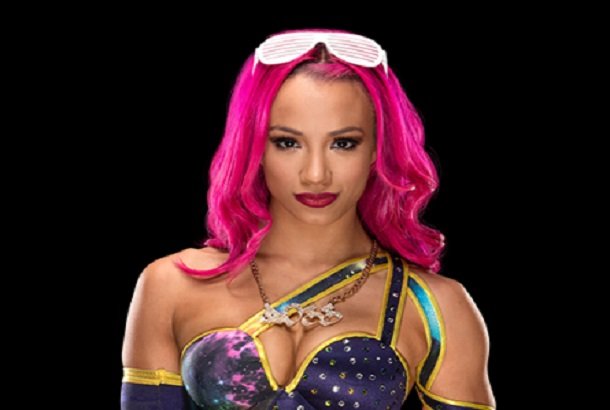 Mercedes "Sasha Banks" Kaestner-Varnado hustled her way into the world of wrestling by making a name for herself on the independent circuit. She eventually finessed her way into the World Wrestling Federation (WWE) and transformed into a superstar headlining her own pay-per-view main event.
She has broken barriers as one of the most thrilling performers to take the ring, striving to become a five-time champion (as of this writing,) and we aren't the only ones who are mesmerized by her onstage presence. She's attracted legions of adoring fans, thanks to her electric purple hair, her blinged-out costumes, and her high-flying finishing moves, such as the "bankrupt," the "bank statement," and the "frog splash" — an homage to her wrestling idol, the late Eddie Guerrero.
By now, most of her fans know the basics about her, including the fact that rapper Snoop Dogg is her cousin, but there's much more to learn. From her secretive love life to how she turned her wrestling aspirations into her dream job, this is the untold truth of Sasha Banks.
Sasha Banks claims her dad was a deadbeat
During a candid interview on the Making Their Way to the Ring podcast, Banks claimed her father was abusive toward her mother, recalling "always being scared of him" growing up. By the time she turned 2, he had allegedly left their family in the dust to start a new life in Oregon.
Banks, her mother, and her autistic brother traveled across the United States in search of a better life. By the time she was 11 or 12 years old, her mom broke the news that they would be relocating from Iowa to Oregon to be closer to her father and try to get some support from him. "I was like 'Help us?' He never helped us before," Banks recalled. "[My father is] Snoop Dogg's uncle. He has money, a restaurant, a record label, and he does music on the side … He's never paid [any] child support."
"I was so miserable and I was so depressed" in Oregon, she said. It apparently didn't take long for her mom to realize that old habits die hard. "Finally my mom's like, 'He's not helping us,' so we packed our stuff, we left…" Banks said.
Sasha Banks made a life-altering decision at the age of 13
The family of three left Oregon and proceeded to bounce around in search of a school suitable for her autistic brother. Banks told the Making Their Way to the Ring podcast that her brother had experienced abuse in some of his previous educational settings, but upon arriving in Minnesota, things didn't get much better for their family.
Her mother was unemployed. They lived in a hotel room for years, and Banks said she was relentlessly teased at school about her appearance. To make matter worse, her brother's behavior worsened due to the alleged abuse he was suffering. When her mom finally landed a job, Banks made a bold decision at the age of 13 to quit school and take online courses so she could become her brother's full-time caregiver.
"I don't know what a childhood is," she said. "I never had my teenage years. I never went to prom. I never really had a boyfriend. I knew nothing." Because she was willing to make such a huge sacrifice, Banks asked her mom for one thing in return: "I'll do anything for this family," she said. "Just give me wrestling."
Sasha Banks' perseverance paid off
Banks began pursuing a wrestling career when she was just a kid. She told BET that she "emailed so many wrestling schools" begging for a chance. She finally got her break at age 17, when she was invited to attend the New England Pro Wrestling Academy in Boston. When her mom landed a job in the same city, it was the perfect opportunity for their family to make yet another move. "I was 17 about to turn 18. I told my mom, 'I'm 18 now, I just signed these papers by myself and I'm going to do this,'" she sais. "I was the only girl in that little tryout fantasy camp."
Working in a male-dominated field takes a lot of guts, and Banks was definitely up for the challenge. "At the time, I had no money, no nothing at all," she said. Banks never stopped pursuing the WWE. "I emailed them legit every single week, asking for work," she said. "One day I finally got the call and they said they were going to send me down to FCW (training division) for a tryout."
Hard work, determination, and nagging emails paid off!
How Sasha Banks became 'The Boss'
Some of the best wrestlers made a name for themselves with their catchy ring names or slogans, and Banks wanted to add a memorable nickname to her moniker, too. She found inspiration in popular hip-hop artists. Since her wrestling persona is centered around bragging, boasting, and showing off massive amounts of confidence, Banks told the Orlando Sentinel, "I was looking at people like [Snoop], Kanye [West] and Nicki Minaj, then somehow the idea 'I'm the boss' clicked with me."
She told BET that being around her cousin, Snoop Dogg, convinced her to run with her powerful calling card. She noticed "all his security guards and his friends call him Boss," and decided she deserved the same respect. She began calling herself "The Boss," and everyone else soon followed suit. "I told myself, 'Once I get my opportunity, I want to show people why I'm here to be the best women's wrestler of all time' and that's why I made my name," she told BET.
Sasha Banks hid her marriage from 'crazy' fans
Sasha Banks is very open when it comes to talking about the struggles she faced during her childhood, but one topic that she hasn't been forthcoming about is her marriage to former wrestler and WWE costume designer Sarath "Kid Mikaze" Ton. It wasn't until a March 2017 interview with Making Their Way to the Ring that she finally let the cat out of the bag. "You're the first one I've admitted it to. I am married," she told the show's host, Lilian Garcia. "I just hide it because our fans are so crazy sometimes."
By crazy, she's referring to some online "fans" (aka trolls) attempting to contact her guy via Twitter. "If you're saying he's ugly or he shouldn't be with me because of this or that. That hurts me," Banks said. "I don't like that he reads that every day and he's such an amazing person." The Four Horsewomen member doesn't take kindly to followers dissing her true love. "I remember when we got married and a picture was leaked, it was trending, and fans were like 'What the …. Why!' But did those guys really think they could marry me? Come on." Touché.
Sasha Banks will work for food
Banks wasn't always making the big bucks for her show-stopping performances in the ring. There was once a time when she was forced to take whatever scraps she was offered. During an interview with First We Feast's Hot Ones, Banks answered a series of questions about her life and career, and she had a thing or two to say about "scummy promoters." When asked what she doesn't miss the most about the independent wrestling circuit, she answered, "I don't miss getting paid $25 or getting paid by just getting a slice of pizza," she said. "It was legit. Either you get pizza or a hot dog, or you get $25. That was it."
Those days are now in her rear-view mirror. As of 2018, this boss was no longer trading pizza for suplexes, reportedly raked in a salary of $225,000 a year. Cha-ching!
Taking 'a beating' gives Sasha Banks life
Like most kids, Banks initially assumed she'd grow up and have a typical job. You know, like a doctor or a firefighter. But all that changed at the age of 10 when she was channel surfing and came across a wrestling show on the tube. "There was something about it that made me instantly hooked," she told the NZ Herald. Of course, those closest to her weren't pleased with her newfound career goal, especially her mother. "She said 'What did I do wrong'?" Banks recalled. Her grandmother was even less supportive: "You wanna get beat up for a living?"
We're sure glad Banks didn't let anything stand in her way. In 2016, she and rival Charlotte Flair became the first women to compete in a Hell in a Cell pay-per-view match, and in 2015, Banks became the first woman to win the Pro Wrestling Illustrated Feud of the Year when she bested Bayley. Not bad. Not bad at all. "There is something about taking a beating and giving someone a beating that is so much fun," Banks said. "It's acting, being an athlete, being a superstar." How's that for a triple threat?
It's all fun and games for Sasha Banks until the dessert cart rolls around
To be a professional wrestler means being on point at all times. Not only do wrestlers need to build up their stamina and endurance so they don't conk out in the middle of a match, but they also have to make sure their bodies look flawless when they're piledriving their opponents. To keep a toned physique, Sasha Banks told Muscle and Fitness that she does 90-minute gym sessions, which consist of a mixture of cardio and strength training. "It's hard to get to the gym when we're on the road so much," she said. "But it's so important that I make the time to keep up with it."
Hitting the gym hard is only half the battle. What she consumes also plays a huge role in helping maintain her washboard abs. During an episode of First We Feast's Hot Ones, Banks described the type of food that's generally served backstage at the WWE: "There is a little salad bar and we have our plain chicken, and that's what I pretty much have every week on Monday Night Raw," she said. "I just stare at the dessert and just hope one day that I can have a bite."
It gets real in the ring, but wine fixes everything
Some people like to dismiss wrestling as nothing more than a fake sport with a bunch of beefed-up, cheesy actors. Sure, there's a bit of drama that goes on in the ring to bring the storylines to life, but surprises do occur, and that's when things get really real.
Banks 2016 Iron Man matchup against competitor Charlotte Flair reportedly lasted a grueling 45 minutes. Not only was Banks struggling to push through it, but she ended up with a gnarly injury to boot. Viewers were shocked to see blood gushing out of Bank's nose after the back of Flair's leg collided with The Boss' face. "I was just like dead because she broke my nose during it. I was just bleeding. I'm like, 'Oh my god, can this be over?'" Banks revealed on First We Feast's Hot Ones.
Thankfully, she has the perfect cure for all ring-related ailments. "Lots of wine," she told the show. "I love drinking wine after a match. It makes me really calm and relaxed." Bottoms up!
Being 'annoying' paid off for Sasha Banks

The WWE's Women's Tag Team Championship was established in December 2018, and Sasha Banks and Bayley — better known as the Boss 'n' Hug Connection — became the inaugural champions by winning an Elimination Chamber match in January 2019, according to Prowrestling.net.
But this title might not have happened if it weren't Banks. She told Sky Sports that Vince McMahon had to be convinced that bringing women's tag-team titles to the WWE was a good idea. So she and Bayley went to work. "It felt like the whole of last year we were asking, like we would be knocking on the door of Vince's office every week," she said, before adding that McMahon would frequently flip-flop on his answer and change his mind from one week to the next.
In the end, he gave the title the green-light, of course. And the whole ordeal taught Banks a valuable lesson. "If you're annoying enough you can make things happen and that's probably what happened, he just got annoyed with us," she said.
Being annoying isn't such a bad thing after all!
Sasha Banks was inspired by anime cartoon 'Sailor Moon'
In the aforementioned Orlando Sentinel article, Sasha Banks shared how she looked toward many hip-hop stars to help shape her wrestling persona. However, when she was a kid, her real life was inspired by '90s anime cartoon Sailor Moon.
Banks was enthralled by the female cartoon characters who were strong, powerful, and on a quest to change the world. "I felt like watching 'Sailor Moon' was like looking in a mirror," she told Still Real To Us. Banks also shared a lot of similarities with the character Serena Tsukino (also known as Usagi Tsukino in the Japanese version of the cartoon). "[Serena] was always late to school. So was I. I was a meatball head," she joked.
After watching the lineup of Japanese superheroes, Banks began to transform into a superhero herself after launching her professional wrestling career. "Once I put my wrestling gear on and I see that RED camera while hearing those fans… I am a whole different person," she said, "I feel like I can do anything."
Sailor Sasha has a nice ring to it, no?