WWE ; Superstar Doesn't Want Asuka To Leave WWE NXT Now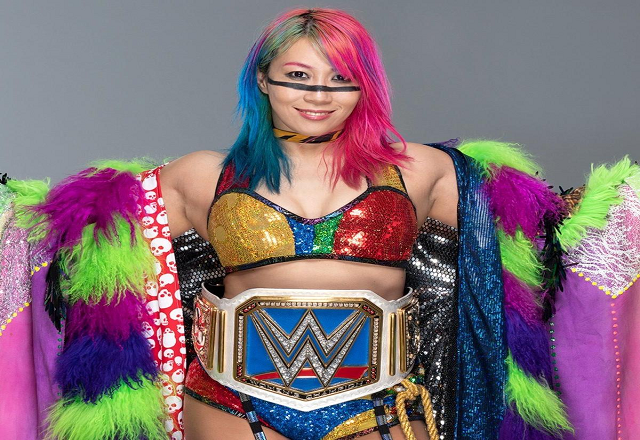 The role of Asuka in WWE NXT is that of the most dominant female wrestler in the history of the promotion. Asuka debuted in NXT in October 2015 (I was at the taping she debuted at), won the NXT Women's Title at NXT Takeover Dallas during WrestleMania weekend in 2016 and she's held onto the title for over 500 days.
Unfortunately, Asuka suffered a collarbone injury during her match with Ember Moon at NXT Takeover Brooklyn III this past Saturday.
It's not known what WWE might do with her NXT Women's Title because the injury is said to be a 6-8 week recovery, so they may just have her hold onto it rather than take it off here. There's a NXT taping this week where we will know more about it.
There are two questions that a lot of WWE fans about Asuka's future in the company:
1) When is she going to lose the title?
2) When will she debut on the main roster?
As of this writing, we don't know the answer to either of those questions. However, what we do know is that NXT's boss, Triple H, doesn't want Asuka to leave NXT any time soon.
Here are some strong comments from Triple H about how NXT has lost a lot of women in the past couple of years, but he doesn't want them to lose Asuka.
Unstoppable.
Untouchable.
Undefeated.
Congratulations to @WWENXT Women's Champion @WWEAsuka for an incredible milestone. #AndStill pic.twitter.com/jyQCBPwo0p

— Triple H (@TripleH) May 25, 2017
"I would never want to limit someone's growth or their opportunities, but when Vince brought it up to me, I said the one person who we can't afford to lose is Asuka. You could take everybody else you want to take – and trust me, he did – but I need her as an anchor. If I lose her and everybody else, I'm doomed.
Strong words there: "I'm doomed" huh? If anything, it shows how much value Triple H places on Asuka as a performer.
I don't think I'm going too far in saying she's the best female performer in WWE right now. The fact that she's in NXT certainly doesn't hurt her standing.
She's had more great matches than anybody other woman in WWE although obviously women like Charlotte Flair, Sasha Banks and Becky Lynch have done really well for themselves too.
Triple H praised Asuka some more by talking about how she's changed the game in WWE and has influenced other women in the company.
When we signed her, it made everybody already inside look at who we were bringing in and they were seeing what I was seeing – this girl is going to change the game. She's changed the main roster too and how the girls work and that intensity level."